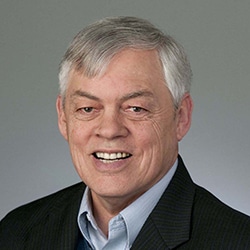 Lee Beyer has been married to his wife Terry for 45 years.  They raised all three of their children in Springfield and continue to live there today.
After military service, Lee attended Lane Community College and the University of Oregon, financing his education with the GI Bill and working the swing shift at a local mill.   He graduated from the University with a degree in management and started his first professional job in Corvallis managing vocational training programs.  During that period, Lee assisted the Linn, Benton and Lincoln County Commissions in establishing the forerunner of today's non-profit Community Services Consortium, Inc.
In the mid-1970s, Lee accepted a position as a management analyst with the Oregon Executive Department.   In 1978, Lee began managing one of the largest employment and vocational training programs in Oregon.   In 1983, Lee joined the Eugene Business Assistance Team, formed in the midst of the 1980s recession to help promote economic recovery.  Lee worked as a small business advocate and development consultant through 1997 when he was hired as the Executive Director for the Metro Partnership, Inc.
Lee's community service began in 1978 when he was appointed to the Springfield City Planning Commission.  That appointment led to his first elective office as a Springfield City Councilor in 1986, where he remained until 1993.  In 1991 he entered the Oregon Legislature as a state representative.  In 1998 Lee was elected to the State Senate.
In 2001, Governor Kitzhaber asked Lee to join the Oregon Public Utility Commission, a consumer protection regulatory agency that oversees all private electric, telecommunications, natural gas and water utilities.  During his almost nine years on the Commission, Lee developed a reputation as a tough but fair regulator.  In that time period, the Commission protected ratepayers from over $600 million in requested rate increases.   At the same time, at Commission direction, Oregon became a national leader in pursuing energy efficiency and shifting to renewable energy resources.
Lee returned to the legislature in 2011. Throughout that time he has chaired the Senate Business and Transportation committee.
Civic Involvement
Lee has served on numerous local, state, regional and national boards, commissions and task forces including:
Governor's Appointee To:
Oregon Global Warming Commission
Oregon Energy Planning Commission
Juvenile Task Force Subcommittee On Teen Runaways
Oregon Progress Board Benchmark Evaluation Task Force
Juvenile Crime Prevention Commission
Willamalane Park & Rec. District Board of Directors
McKenzie-Willamette Hospital Board of Directors (Chair 2000 – 01)
Springfield Education Foundation Board of Directors
Lane Community College, Professional/Technical Advisory Council
Lane Economic Committee
Local Government/Metropolitan Policy Committee (Chair '86-'88 & '92)
Springfield City Planning Commission & Budget Committee
Benton-Lane-Lincoln-Linn Regional Strategy Board of Directors
Eugene/Springfield Metropolitan Partnership, Inc. Board of Directors
Richard E. Wildish Community Theater Board of Directors
Springfield & Twin Rivers Rotary Clubs
Lane  "Blue Ribbon" Future's Task Force for County Government
Springfield Soccer Club, Inc. Board of Directors
Springfield Chamber of Commerce, Government Affairs Committee
Springfield Historic Railroad Depot Foundation Board of Directors
Eugene/Springfield Visitor & Convention Bureau, Inc. Board of Directors
https://ormoneywatch.com/wp-content/uploads/2021/09/6-Beyer.jpg
250
250
Kevin Maloney
https://ormoneywatch.com/wp-content/uploads/2021/11/moneywatch-logo.png
Kevin Maloney
2021-09-16 12:05:17
2022-03-07 16:01:26
Lee Beyer