David Brock Smith
Bio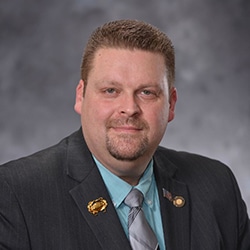 Bio
Occupation: State Representative, Small Business Owner
Occupational Background: Third Generation Southwest Oregon Small Business Owner, Economic Development Director, Business Manager, Director of Operations/Management-Hospitality Industry
Educational Background: Pacific High School, SOCC, SOU, County College Certificate-OSU & AOC-Honors
Prior Governmental Experience: State Representative, House Republican Assistant Leader, Legislative Task Forces/Workgroups-Sudden Oak Death, Opioid, Maritime Workforce Development, Invasive Species, Agricultural Ditches, OGWC, Salmon & Habitat Enhancement, Pacific Northwest Economic Region-Board Member, Legislative Committees: Vice Chair-Environment & Natural Resources, Agriculture, Land Use & Water, Education, Economic Development & Trade, Joint Ways & Means Sub on Natural Resources, County Commissioner-Chair, County Budget Committee-Chair, Elected-Association of Oregon Counties (AOC) District-4 Chair, representing Curry-Coos-Douglas-Josephine-Jackson Counties, AOC Board of Directors, AOC Legislative Committees-Public Lands & Natural Resources, Energy, Environment and Land Use, Association of O&C Counties Board of Directors, National Association of Counties (NACo) Public Lands Committee, Port Orford City Council President, Port Orford-Langlois School Board-7 years, Port Orford & North Curry County Chamber of Commerce-President/Director-7 years
Affordable Health Care and Housing
David continues to work and pass legislation that expands these needed services while reducing costs for our residents.
Kids First in Education
David continues his dedication to adequately fund our schools, with investments in needed Career and Technical Programs for our students to learn employable skills.
Veteran Services
David works tirelessly for quality care and expanded services for our Veterans.
Fishing, Farming, Forestry & Tourism
"I am a firm supporter of local input and its role in the management of our resources, as I believe the best practice for resource management is one that is closest to the people. Our rural communities exist because of the resources that founded them. Responsible use of our fundamental natural resources and the health of their industries is critical to job creation, providing needed services to our residents, attracting new industries and growing our local economies and tourism related businesses."
David Brock Smith
More Information:
www.OregonLegislature.gov/smithd
(This information furnished by Friends of David Brock Smith.)