Deb Patterson
Bio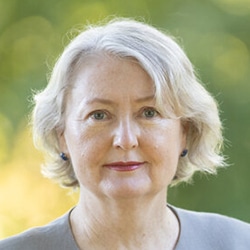 | | |
| --- | --- |
| Race: | Senate |
| District: | 10 |
Bio
Occupation: State Senator, caregiver, mom
Occupational Background: Ordained clergy; Executive Director, International Parish Nurse Resource Center; Vice President, Deaconess Foundation
Educational Background: Yankton College; MHA, Washington University School of Medicine; M.Div., D.Min. Eden Theological Seminary
Prior Governmental Experience: Oregon Disabilities Commission; Oregon Nursing Home Administrators Board; Oregon Commission for Women; Marion County Health Advisory Board Chair; Intellectual and Developmental Disabilities Advisory Committee
Community Service: Downtown Salem Rotary; Community Benefit Committee, Salem Health; Salem City Club; Salem-Keizer NAACP
"It's an honor to serve as your State Senator. Together, we've tackled prescription drug pricing, health care affordability, expanded paid family leave, supported small businesses and delivered new solutions for our housing and homelessness crisis. I hope I can earn your support to continue this important work." – Senator Deb Patterson
Senator Patterson is keeping her promises, building an Oregon that works for everyone by:
Investing in safer and healthier communities by securing $15 million to invest in crime and violence prevention programs.
Supporting small businesses by designating $400,000 in small business assistance and expanding capital grants to keep our local economy running.
Lowering the cost of healthcare by voting for a record-breaking investment of $470 million in mental health services and standing up to pharmaceutical corporations.
Delivering for students, parents and educators with an historic investment of $9.4 billion in K-12 education, and $500,000 for career-technical training.
Addressing our housing and homelessness crisis by securing $400 million in homeless services, affordable housing development and access to homeownership.
Supporting our Community by securing over $35 million for projects across Salem, Independence and Monmouth.
Standing with Senator Deb Patterson:
Oregon Nurses Association
Planned Parenthood PAC of Oregon
Oregon Education Association
SEIU Oregon
Independence Mayor, John McArdle
Monmouth Mayor Koontz
Salem City Councilor, Trevor Phillips, MD
Osvaldo Avila, Salem-Keizer School Board, Chair
Ashley Carson Cottingham, Salem-Keizer School Board, Vice-Chair
Jason Greenwood, Business Owner
(This information furnished by Friends of Deb Patterson.)