Zach Hudson
Bio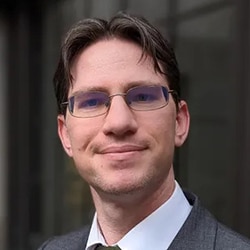 Bio
Occupation: Teacher, Clackamas ESD
Occupational Background: Teacher, Reynolds High School, Corbett High School, Mt. Hood Community College
Educational Background: M.Ed, Portland State University; MA, King Alfred's College; BA, King Alfred's College
Prior Governmental Experience: State Representative, 2021 – present, Troutdale City Council, 2017 – 2020; Troutdale Citizens Advisory Committee 2010 – 2016
A Record of Leadership
As an East County teacher for sixteen years, Zach has helped students learn and thrive.
As a state representative, he has fought for our priorities and stood up for working families.
Zach helped secure funding for East County to
Develop affordable housing to address our growing houseless crisis
Increase community services for working families
Provide youth recreation and prevent youth violence
Zach led the fight to
Make prescription drugs more affordable
Support first responders
Protect wildlife
Improve education
Send Zach back to Salem to fight for working families and small businesses, to drive down the cost of living, to improve community safety and violence prevention, and to build stronger schools.
Endorsed by leaders and organizations we trust
State Senator Chris Gorsek
State Representative Ricki Ruiz
Multnomah County Sheriff Mike Reese
Multnomah County Auditor Jennifer McGuirk
Troutdale City Councilor Dave Ripma
Troutdale City Councilor Jamie Kranz
Fairview City Councilor Wendy Lawton
Wood Village Mayor Scott Harden
Wood Village City Councilor Jairo Rios-Campos
Wood Village City Councilor John Miner
Michael Reyes Andrillon, Reynolds School Board
Cayle Tern, Reynolds School Board
Amanda Orozco-Beach, Gresham-Barlow School Board
Brian Ettling, climate organizer
Sho Roberts, Maggie Mae's Kids Bookshop
Oregon League of Conservation Voters
Oregon AFL-CIO
SEIU Oregon
Oregon Nurses Association
Northwest Carpenters Union
Pro-Choice Oregon PAC
Planned Parenthood PAC of Oregon
Basic Rights Oregon Equality PAC
See more at www.electzachhudson.com
(This information furnished by Elect Zach Hudson.)