Travis Nelson
Bio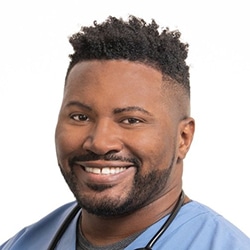 Bio
Occupation: Registered Nurse, State Representative, Vice-President of the Oregon Nurses Association, Labor Representative
Occupational Background: Emergency Room Nurse, Janitor, Landscaper, Coach
Educational Background: Washington State University
Prior Governmental Experience: Precinct Committee Person, State Representative
Travis Nelson for State Representative
The Progressive We Need for North and Northeast Portland
As a nurse for the last 18 years, I think about our personal health, our civic health, our planet's health and the health of our public systems. Covid-19 has proven that many of the safety nets we rely on are frayed and vulnerable. This is a wake up call we must answer, and that is why I am running to be your voice in Salem.
As Your State Representative I'm Fighting For:
Housing for All: There is a humanitarian crisis on our streets. We must deliver additional shelter, mental health and substance abuse services, permanent supportive housing, and affordable housing for every neighborhood.
Healthcare for All: We need low or no-cost healthcare and prescriptions. That extends to protecting every woman's access to quality reproductive healthcare.
Supporting Schools: We must invest in schools to address workforce shortages and ensure students have a safe environment to learn in five days a week.
Equity: As the only Black man in the Oregon State House and the first Black, LGBTQ+ person to serve in the State Legislature, I will bring voice to communities who haven't historically had a seat at the table.
Endorsed By:
Oregon Nurses Association
Oregon AFL-CIO
Oregon League of Conservation Voters
Pro-Choice Oregon PAC
Planned Parenthood PAC of Oregon
UFCW 555
American Federation of Teachers Oregon
Oregon Education Association
Portland Association of Teachers
Oregon and Southern Idaho District Council of Laborers
Pacific Northwest Regional Council of Carpenters
U.S. Senator Jeff Merkley
U.S. Senator Ron Wyden
Congressman Earl Blumenauer
Oregon Attorney General Ellen Rosenblum
Oregon Labor Commissioner Val Hoyle
State Senator Lew Frederick
Former State Representative Tina Kotek
Former State Senator Chip Shields
Former State Senator Margaret Carter
(This information furnished by Friends of Travis Nelson.)