Tina Kotek
Bio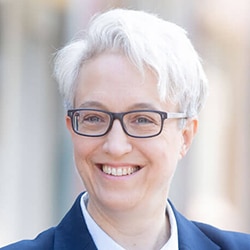 Bio
Occupation: Advocate
Occupational Background: Policy Director, Children First for Oregon; Policy Advocate, Oregon Food Bank
Educational Background: University of Oregon, B.S.; University of Washington, M.A.
Prior Governmental Experience: State Representative (2007-2022), Speaker of the House (2013-2022)
Proven Progressive Fighter Ready to Tackle Oregon's Challenges
I started my public service twenty years ago at Oregon Food Bank, trying to make things better. It wasn't just about food. People needed good jobs, affordable housing, and quality health care.
I ran for office to be a force for positive change, fight for our communities, and deliver results for all Oregonians.
As Oregon's House Speaker, I fought to:
Support working families by raising the minimum wage, guaranteeing paid sick leave, and starting a paid family leave program.
Address our crisis of homelessness by protecting renters during the pandemic, increasing funding for affordable housing construction, and converting unused motels into shelters.
Invest $1 billion more per year in public schools to help more Oregon kids graduate and succeed.
Fight climate change by putting Oregon on a path to 100% clean electricity by 2040.
Keep our communities safer from gun violence by expanding criminal background checks.
Stand up against Trump's attacks on women by passing the nation's strongest abortion access law, guaranteeing access to reproductive health care for all Oregonians.
I'm running for Governor to tackle our state's biggest challenges:
Reduce homelessness and make housing affordable.
Expand access to mental health and substance abuse treatment.
Protect the environment and create jobs in clean energy.
Fight to protect hard-working families from the rising cost of living.
Endorsements:
Planned Parenthood PAC of Oregon
Pro-Choice Oregon PAC
Basic Rights Oregon Equality PAC
Oregon Education Association
Oregon League of Conservation Voters
SEIU
Teamsters Joint Council 37
Building Power for Communities of Color
Stand for Children
Oregon State Building & Construction Trades Council
Working Families Party
Latino Network Action Fund
Oregon Nurses Association
More information and endorsements:
(This information furnished by Friends of Tina Kotek.)