Tawna Sanchez
Bio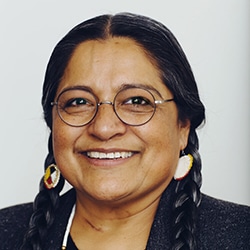 Bio
Occupation: Director of Family Services, NAYA Family Center
Occupational Background: State Representative since 2017, House District 43
Educational Background: Portland State University, MSW; Marylhurst University, BA
Prior Governmental Experience: Current Co-Chair of Joint Ways & Means Committee and House Conduct Committee; Former Chair of House Behavioral Health, House Human Services and House Judiciary Committees; Oregon Domestic and Sexual Violence Advisory Board; Oregon Family Services Review Commission; Oregon Child Welfare Advisory Commission
TAWNA SANCHEZ:
FIGHTING FOR OUR COMMUNITY
ADDRESSING THE BEHAVIORAL HEALTH CRISIS
As Chair of the House Committee on Behavioral Health, I worked to help pass a package of legislation during the 2021 session aimed at increasing the opportunities for addictions and mental health support our state has needed for such a long time. This included passing legislation to set up the infrastructure needed for the 9-8-8 suicide crisis hotline and providing funding for mobile crisis response.
GIVING A VOICE TO THE UNDERSERVED
My office passed legislation that creates a licensure for Dental Therapists to increase access to dental care in rural areas and continued our work on the Oregon Indian Child Welfare Act, which requires Oregon's judicial system to ensure that Native children who enter the child welfare system can remain connected to their tribal communities.
CONTINUING THE WORK
Working to improve outcomes in our child welfare system remains a priority, as well as pushing for a more thoughtful and fair criminal justice system, and investing in much needed Behavioral Health services statewide.
Representative Sanchez has received endorsements from:
SEIU Oregon
Oregon AFL-CIO
U.S. Senator Jeff Merkley
U.S. Senator Ron Wyden
State Senator Kayse Jama
Pro-Choice Oregon PAC
Oregon Nurses Association
Northwest Carpenters Union
Basic Rights Oregon Equality PAC
Planned Parenthood PAC of Oregon
Oregon League of Conservation Voters
Portland City Commissioner Jo Ann Hardesty
Multnomah County Commissioner Susheela Jayapal
Portland Association of Teachers/Oregon Education Association
(This information furnished by Tawna Sanchez for Oregon.)
(This information furnished by Tawna Sanchez for Oregon.)