Raquel Moore-Green
Bio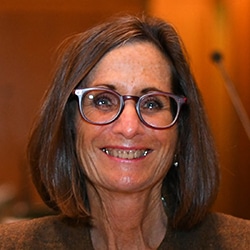 | | |
| --- | --- |
| Race: | Senate |
| District: | 10 |
Bio
Occupation: State Representative, 2019-present
Occupational Background: Small Business Owner; YWCA of Salem; United Way of the Mid-Willamette Valley; Cafe Today; Boeing; Hitachi America
Educational Background: Community College
Prior Governmental Experience: House Committees: Behavioral Health, Health Care, Energy & Natural Resources, COVID-19 Response, Conduct; City of Salem Budget Committee
Community Involvement: Salem Police Foundation; Willamette Heritage Center; SEDCOR; Salem City Club
Personal: Raquel has lived in South Salem for 27 years, with her husband Jim, where they raised two of their three children. They are pleased to have three of their 13 grandchildren nearby.
Raquel's Priorities
Ensuring strong public safety and standing up for crime victims-
Those that commit unlawful acts must be held accountable. Our communities should be places where people and businesses feel safe.
Improving education for Oregon children and promoting parental involvement-
Academic standards must be restored and parents need to know children are receiving the best education possible.
Supporting our small businesses and providing relief for Oregonians-
State revenue is at record highs as is spending. Additional taxation has to stop.
Holding government accountable and creating transparency-
Agencies should be held accountable for their deliverables to Oregonians, creating the transparency the public deserves.
Access to affordable patient center health care-
Stabilizing our health care workforce and controlling the expansion of state regulations are essential.
Protecting our natural resources economy-
Responsible use of our natural resources will sustain growth in jobs, recreation, and future enjoyment for our communities.
Addressing addictions, championing early intervention services, and supporting mental and behavioral health-
Effective public health includes prevention and education; they are fundamental to healthy communities.
"Oregon's politics are out of balance. I'll continue to ensure your voice is heard and government is held accountable. As a passionate, thoughtful, and experienced leader, my door is always open for your ideas and concerns. It's an honor to serve and I would be privileged to receive your vote for Senate District 10."
-Raquel Moore-Green
www.rmgsd10.com @rmgsd10
(This information furnished by Friends of Raquel Moore-Green, PAC 20041.)