Pam Marsh
Bio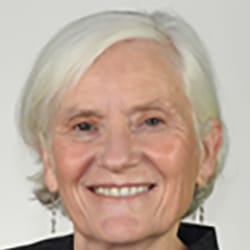 Bio
Occupation: Oregon State Representative, House District 5 (2017-present)
Occupational Background: Executive Director, Ashland Emergency Food Bank (2012-2016); Co- owner, Green Springs Inn and Cabins (1994-present); Administrator, OnTrack (2005-2012); Coordinator, Santa Clara County Cities Association (1992-1994); Field Representative, California legislature (1984-1988)
Educational Background: Southern Oregon University, BA 2005; UC Berkeley, (1973-1975)
Prior Governmental Experience: Ashland City Council (2012-2016); Ashland Planning Commission (2006-2012); Ashland Charter Review Commission (2004-2006)
Member: State Broadband Advisory Council, Oregon Retirement Savings Board
Legislative Committees: Environment and Natural Resources (Chair); Wildfire Recovery (vice chair); Revenue; Housing; Agriculture, Land Use and Water; Joint Committee on Information Management and Technology,
Awards: 2021 Women Living Leadership (United Way of Jackson County); 2021 Environmental Champion of the Year (OLCV); Cooperator of the Year (2021, Oregon Rural Electric Cooperative Association); Rock Solid Award (2021, Oregon People's Utility District Association); Consumer Champion Award (2019, Consumer Utility Board); Daffodil Award (2019, Family Nurturing Center); Excellence in Telecommunications Policy/Legislation (2019, Oregon Connections Telecommunications Conference)
Since September 2020, I have been intensely focused on our region's recovery from the devastation wreaked by the Almeda fire. While we are starting to see signs of rebound, I continue to do everything I can to ensure that every individual or family can return to the community.
We need to expand programs to keep our community as safe as possible, including funding for defensible space and forest restoration projects that protect public health and minimize the threat of wildfire. As the climate continues to warm, we need policies like 2021's 100% Clean Electricity to reduce greenhouse gas emissions. Acknowledging changing conditions, we must invest in programs that will help residents cope with smoke events and deadly heat spikes through acquisition of air filtration and energy efficient cooling devices.
I will continue work on other issues that confront us, including illegal hemp operations, rural internet connectivity, homelessness, and critical support for post-pandemic recovery of schools, health care and small businesses.
Heartfelt thanks for your support.
(This information furnished by Pam Marsh.)