Lisa Reynolds
Bio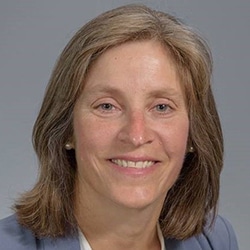 Bio
Occupation: Pediatrician, State Representative
Occupational Background: The Children's Clinic, 1995-present; Oregon State Representative, 2020-present
Educational Background: University of Chicago, BA; UCLA School of Medicine, MD
Prior Governmental Experience: State Representative; Citizen Budget Advisory Committee, Multnomah County
Community Involvement: Tualatin Hills Park Foundation Board; Moms Demand Action Legislative Lead; Indivisible Oregon Co-founder
As a State Representative, Lisa
Passed gun safety legislation, protecting children from gun violence.
Delivered transformational funding for behavioral health services.
Raised payments to child care caregivers.
Voted yes for 100% clean electricity by 2040.
Supported retention and recruitment bonuses for educators.
Secured record funding for community violence intervention and prevention.
Addressed our homeless crisis with rent relief, housing units, shelter beds, and programs to support homeownership.
Provided financial support to businesses to respond and recover from the pandemic.
Established overtime pay for Oregon farmworkers.
As a Washington County Pediatrician, Lisa
Sees firsthand the impacts of the pandemic and what is and what is not working for Oregon families.
Addresses health and educational disparities for those historically left behind because of systemic racism.
Led in the coalition passing Washington County's flavored vape ban, and will expand it statewide.
I'm just getting started. Here's what's next: I will close dangerous loopholes in our background check system for gun purchasers. I will secure consistent school funding for every student. I will expand access to healthcare, including reproductive care and behavioral health services, for every single Oregonian, no matter who you love or where you're from.
Endorsers:
APANO
SEIU Oregon
Oregon AFL-CIO
Planned Parenthood PAC of Oregon
PCUN (Pineros y Campesinos del noroeste)
Beaverton Education Association
Oregon League of Conservation Voters
Basic Rights Oregon Equality PAC
U.S. Senator Jeff Merkley
Oregon Labor Commissioner Val Hoyle
State Senator Elizabeth Steiner Hayward, MD
State Representative Maxine Dexter, MD
State Representative Dacia Grayber
State Representative Ken Helm
Metro Councilor Juan Carlos Gonzalez
Washington County Chair Kathryn Harrington
Washington County Commissioner Pam Treece
Beaverton Mayor Lacey Beaty
Visit www.LisaForOregon.com for more.
(This information furnished by Friends of Lisa Reynolds.)