Lily Morgan
Bio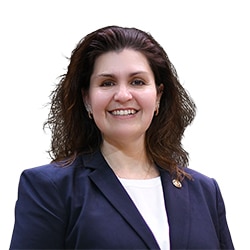 Bio
Occupation: State Representative
Occupational Background: Parole & Probation Officer, Josephine County Commissioner, 911 Dispatcher; Business Marketing
Educational Background: Master in Management, Southern Oregon University; Bachelor of Arts Sociology, Seattle Pacific University; Grants Pass High School
Prior Governmental Experience: Josephine County Commissioner; Grants Pass City Councilor; Reserve Sheriff's Deputy; Member, Bureau of Land Management Western Oregon Resource Advisory Committee; Member, State Wildfire Council Subcommittee on Suppression
Fighting for Our Southern Oregon Values in Salem
I am honored to represent you in our state's government. For two years, I have pushed back against the Portland agenda and worked to stop dangerous police reform, burdensome tax increases, and damaging education policies. The safety of our community and support for our law enforcement officers has been a top priority, and I've worked to change and stop legislation that would have defunded our police and made our neighborhoods less safe.
Government Overreach is out of control
The past two years have shown us just how untrustworthy our state agencies have become. I am working continuously to stop government mandates and bring accountability, transparency, and efficiency to agencies like the Oregon Health Authority, Department of Education, and the Housing & Community Services Department. These agencies are funded by your tax dollars, and they must serve your needs above the governor's.
Advancing Our Priorities
As your State Representative, I will continue to:
Protect your wallet from new and higher taxes
Defend our Constitutional rights and restore personal freedom
Support our law enforcement officers and first responders
Fight for choice and quality in education and medical freedom for our kids
Address the root causes of homelessness
Create housing options that working families can afford
Push for responsible forest management to strengthen our local economy and address yearly wildfires
Endorsed by
Oregon Right to Life
Oregon Farm Bureau
(This information furnished by Friends of Lily Morgan.)