Kim Thatcher
Bio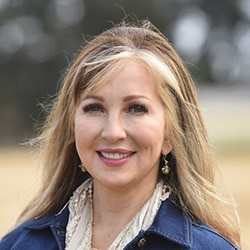 | | |
| --- | --- |
| Race: | Senate |
| District: | 11 |
Bio
Occupation: Owner; Heavy Highway Construction Company, State Senator – District 13
Occupational Background: Construction Projects Management
Educational Background: Oregon City High School, Portland State University
Prior Governmental Experience: State Representative 2005-2014, State Senator 2014 to present.
Legislative Committees: Vice-Chair, Senate Judiciary; Joint Committee on Legislative Audits; Chair, Oregon Transparency Commission; Public Records Advisory Council, plus many others.
Community Activities: Keizer, Wilsonville, Chehalem Valley, and Salem Chambers of Commerce
Personal: Happily married 37 years. Mother of four. Grandmother of seven.
RESTORING TRUST, ACCOUNTABILITY, AND TRANSPARENCY
Making Oregon a Better Place to Work & Raise a Family
Kim fights to stop abusive restrictions and mandates on small businesses and schools.
Kim pushes for effective checks on emergency powers.
Kim advocates cutting crippling regulations that worsen Oregon's housing crisis.
Kim promotes policies encouraging job growth and reducing bureaucracy.
Kim fights to reduce taxes on families and small businesses.
Kim creates safer communities through work cracking down on sex offenders and human trafficking.
Kim continues to support laws that hold criminals accountable and make communities safer.
Making Oregon a Better Place to Go to School
Kim pushes setting budget priorities including funding schools first.
Kim supports immediately restoring graduation standards.
Kim fights to get our children back in the classroom and remove mandates that harm our children's development.
Kim defends education freedom that improves educational opportunities for all Oregon children.
Kim continues to advocate for 21st century transparency that requires school districts to make education plans and curriculum easily available online.
A Pioneer for Transparency and Improving Election Safeguards
Kim spearheaded the Oregon Transparency Website allowing taxpayers to monitor state spending and programs.
Kim called on all legislators to put their name on bills they introduce to promote transparency in lawmaking while bolstering accountability to voters.
Kim has, for years, called for regular and thorough election system audits that will ensure fair elections voters can trust.
Learn More at www.KimThatcher.com
https://www.facebook.com/kimthatcheroregon
(This information furnished by Friends of Kim Thatcher.)