Janelle S Bynum
Bio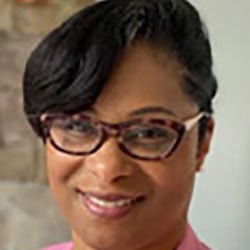 Bio
Occupation: Local Business Owner
Occupational Background: Electrical Engineer
Educational Background: B.S., Florida A&M University; M.B.A., University of Michigan
Prior Governmental Experience: State Representative, 51st District; North Clackamas School District Parent Leadership Alliance
Janelle Bynum: Fighting for every opportunity, for every Oregonian.
As the daughter of public-school teachers, I grew up learning the value of education and its ability to unlock opportunity for working families.
As a mom and a local business owner, I know how families have struggled to stay above water these past two years.
As your representative in Salem, I'm committed to delivering opportunities for each and every Oregonian.
In Salem, I have dedicated my work to restoring and strengthening opportunities for all, from our local schools to working families to Oregon businesses. Together, we've:
Passed historic investments to Oregon schools and addressed teacher burnout and education workforce shortages to ensure kids have a safe environment to learn in 5 days a week.
Supported small businesses and working families through the pandemic by reducing barriers for small businesses, passing the Paid Medical Family Leave Act, and decreasing income taxes for working families.
Addressed the homeless crisis with urgency by providing funding to support struggling Oregonians to transition into critical housing and support services.
There is still so much to do to recover from COVID-19, get families back to work and school and rebuild a more equitable Oregon. I'm asking to continue that work with you. I'll work to address the rise of homelessness, expand affordable housing for all income levels, and build an economy that works for working families and small businesses.
Endorsed by:
Ellen F. Rosenblum, Attorney General
Sonya Fischer, Clackamas County Commissioner
Tom Ellis, Happy Valley Mayor
Mark Gamba, Milwaukie Mayor
Mitzi Bauer, School Board Member
Mark Meek, State Representative
April Dobson, Community Member
Pacific NW Regional Council of Carpenters
Oregon League of Conservation Voters
Basic Rights Oregon Equality PAC
Learn more at www.JanelleBynum.com
(This information furnished by Committee to Elect Janelle Bynum.)