Janeen Sollman
Bio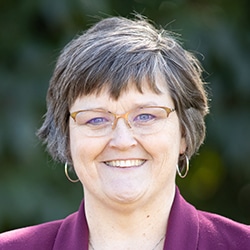 | | |
| --- | --- |
| Race: | Senate |
| District: | 15 |
Bio
Occupation: State Senator; Vernier Software & Technology
Occupational Background: Recycling/Customer Service Specialist
Educational Background: Forest Grove High School; Portland Community College
Prior Governmental Experience: State Representative; Democratic Caucus, Assistant Majority Leader; Hillsboro School Board
Community Involvement: Meals on Wheels; Washington County Project Homeless Connect; Hillsboro Schools Foundation; Metro Master Recycler; Moms Demand Action
A lifelong resident of Washington County, Janeen has spent decades giving back to our communities. As our Senator, she serves with three guiding principles: Listen, Learn, Act.
JANEEN LISTENS
Since being elected to the legislature, Janeen has hosted 87 community conversations on critical issues, including strengthening education, fighting climate change, and addressing homelessness.
"Janeen is accessible and centers our diverse community in her work. She listens to our needs and works to address them." – Hector Hinojosa, Local Leader
JANEEN LEARNS
Engagement with residents and local leaders informs Janeen's work. She seeks out diverse perspectives to understand the complexities of an issue.
"Janeen is responsive to the needs of all in our community. She makes it a priority to be attentive to new ideas and solutions." – Mike and Laura McMurray, Hillsboro Hops Baseball CEO/CFO
JANEEN ACTS
Janeen turns her community conversations into action, passing legislation to:
Increase funding for schools and expand Career Technical Education
Reduce gun violence and require safe firearm storage
Protect our environment
Secure federal funding for local Latine organizations
Establish protections for seniors
Support small businesses
"Janeen never stops working for her constituents. She is dedicated to making our community better and is the voice we need in the legislature." – Hilary Uhlig, Local Leader
WE SUPPORT JANEEN!
Oregon League of Conservation Voters
Oregon Education Association
Planned Parenthood PAC of Oregon
Basic Rights Oregon Equality PAC
IBEW Local 48
U.S. Senator Jeff Merkley
State Representatives Susan McLain and Nathan Sosa
Mayors Steve Callaway (Hillsboro) and Pete Truax (Forest Grove)
Metro Councilor Juan Carlos González
Hillsboro School Board Member See Eun Kim
Community Leader Maria Caballero Rubio
(This information furnished by Friends of Janeen Sollman.)