Elizabeth Steiner Hayward
Bio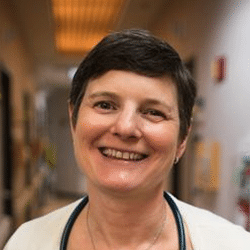 | | |
| --- | --- |
| Race: | Senate |
| District: | 17 |
Bio
Occupation: State Senator, Family Physician
Occupational Background: Adjunct Associate Professor of Family Medicine, OHSU
Educational Background: OHSU Family Medicine Residency; University of Massachusetts Medical School; University of Chicago
Prior Governmental Experience: State Senator
Making Oregon the Healthiest State
Elizabeth joined the Oregon Senate to make Oregon the healthiest state in the nation. Ten years later, her accomplishments include: advancing Oregon's Coordinated Care system, raising the legal age for tobacco to 21, passing the nation's first universally-offered nurse home visiting program for families welcoming new babies, and investing millions in behavioral health and addiction services.
"Elizabeth's commitment to helping people reach their potential by ensuring recovery and wrap-around services means many more
Oregonians enjoy healthy, productive lives."
Alan Evans, Founder, Helping Hands Reentry Outreach Centers
Supporting Local Business
A long-time resident of Northwest Portland, Elizabeth knows small businesses are the backbone of our community. Throughout the COVID-19 pandemic, Elizabeth worked to support businesses across the state, allocating state loans and grants during uncertain economic times.
"Elizabeth understands that small businesses make a big impact in
Oregon's economy. We need her advocacy for us in state government."
Erica Lurie, Owner, Garnish Apparel
Fighting for a Healthy Environment
Elizabeth knows a healthy Oregon also means a green Oregon – which is why she has supported common-sense climate policy throughout her career. She has secured millions in investments in conservation, water infrastructure and planning, and clean energy jobs.
"We need seasoned legislators in Salem to help us tackle
increasingly tough issues. I trust Elizabeth to make smart investments
with our tax dollars and work across the aisle to support both
urban and rural Oregonians. I'm proud to endorse her."
Jim Doherty, Morrow County Commissioner
Endorsements
Oregon League of Conservation Voters
Beaverton Area Chamber of Commerce
Planned Parenthood PAC of Oregon
Pacific Northwest Regional Council of Carpenters
Oregon Education Association
Basic Rights Oregon Equality PAC
Live in Senate District 17?
Complete our survey to share your top issues!
www.elizabethfororegon.com
(This information furnished by Friends of Elizabeth Steiner Hayward.)