E Werner Reschke
Bio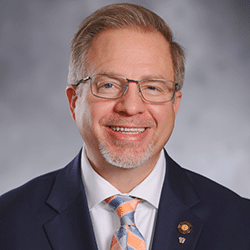 Bio
Occupation: State Representative
Occupational Background: Small business owner
Educational Background: B.A. Business Administration, Cum Laude, OSU
Prior Governmental Experience: State Representative, Vice-Chair House Revenue Committee, Member Joint Ways & Means Committee
About E. WERNER RESCHKE
Family: Married over 30 years; one son USAF.
Guiding Principles
E. Werner Reschke has excelled as State Representative in serving the rural communities of South-Central Oregon. He stands for life, liberty and the pursuit of happiness. Werner champions free markets, education excellence, free speech, medical freedom, peaceable assembly, and second amendment rights. Werner advocates prosecution of violence and lawlessness.
Endorsements
Oregon Right To Life PAC
Oregonians for Food & Shelter
Oregon Farm Bureau Federation
Oregon Dairy Farmers Association
Oregon Forestry & Industries Council
Taxpayers Association of Oregon
Representative Vikki Breese-Iverson, House Republican Leader
Representative Jack Zika
Recent Legislative Accomplishments
Werner sponsored legislation for Crater Lake National Park Day, drought relief, Oregon Tech as Oregon's Only Polytechnic University, tax credits for rural medical providers, protected small businesses from unemployment insurance price surge, fully fund CASA, introduced bills to end the Governor's state of emergency and to end discrimination based on vaccination status. He was a strong opponent of a sales tax measure defeated in the 2022 session as well as a strong opponent on the recent Ag-Overtime bill.
Werner is a four time recipient of The Conservative Union's distinguished Conservative Excellence Award.
During the past two years, Werner was able to secure funding for:
Oregon Tech, New Residence Hall Facility: $55,000,000 (approx.)
Lakeview – Water Treatment Facility: $15,000,000
Klamath Crimson Rose Project: $12,000,000
Lake County Railroad: $3,300,000 (approx.)
Klamath Community College Childcare Resource Learning Center: $1,500,000 (approx.)
Klamath County Economic Development Association: $1,000,000
South Central Oregon Economic Development District: $1,000,000
City of Merrill Water Project: $350,000
In 2021 he was appointed to the prestigious Joint Ways & Means committee and is currently serving his 4th year on the House Revenue committee, now as Vice Chair.
To learn more, visit WernerForOregon.com
(This information furnished by Werner For Oregon.)