Daniel Nguyen
Bio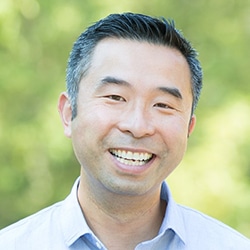 Bio
Occupation: CEO & Founder Bambuza Hospitality Group
Occupational Background: Restaurant owner/worker
Educational Background: BA, Puget Sound; MBA, Marylhurst University
Prior Governmental Experience: Lake Oswego City Council; Council President 2021; Governor's Asia Trade Mission Delegate 2015 & 2018
Community Service: Director, Immigration Counseling Service Board; Co-Chair, PCC School of Business Advisory Board – 2018 – Present
Experience • Determination • Results
My wife Katherine and I founded our restaurant business 19 years ago based on family traditions, and the values of integrity, stewardship, and community. We started with very little, but through the years we used our experience and determination to build and grow, getting positive results, even during the pandemic.
As the son and husband of immigrants, I want to be sure that everyone has the same opportunities Katherine and I did. And that isn't happening now. We need leaders with real world problem solving skills who will act with urgency to build a better future for all of us.
When something isn't working we shouldn't say, "let's keep doing the same thing and see if the problem goes away". As your State Representative, I will ask, I will listen, and I will collaborate to change our systems to get better outcomes for you and all Oregonians.
We must act with urgency!
Prioritize community safety, increased shelter and housing, more treatment for mental health, addiction, and prevention.
Create economic opportunity for more Oregonians by investing in training and apprenticeship programs to fill current and future worker shortages in the skilled trades and healthcare.
Grants and loans for small business start-ups.
Affordable childcare and preschool for all Oregon children.
Join us in supporting Daniel Nguyen
Attorney General Ellen Rosenblum
State Treasurer Tobias Read
State Representative Janelle Bynum
State Representative Ricki Ruiz
Metro Council President Lynn Peterson
Mayor Joe Buck
Councilor Jackie Manz
Councilor Massene Mboup
Former State Representative Greg Macpherson
APANO
For a complete list of endorsers visit
(This information furnished by Friends of Daniel Nguyen.)