Christine Goodwin
Bio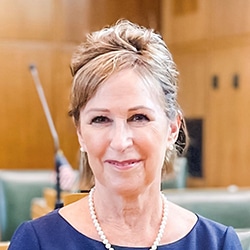 Bio
Occupation: Business Owner, State Representative
Occupational Background: Teacher, Small Business Owner
Educational Background: Portland State University, B.S. Education
Prior Governmental Experience: State Representative, Douglas County Commissioner, Planning Commissioner, Parks Advisory Board, Umpqua Community College Foundation Board, School Board Chair
ABOUT CHRISTINE GOODWIN
Chris has been a resident of southern Oregon for over 40 years. She was a teacher at Roseburg High School before opening and operating Oregon South Fitness. Her next venture was the successful SoCo Coffee Company operated out of the building that she and her husband built for his Optometry practice. She is the Chief Financial Officer of that practice, and has always stayed actively involved in our community.
FIGHTING FOR SOUTHERN OREGON
Chris believes the heart of our community is small business. She opposes burdensome regulations and excessive taxation. Creating an environment where businesses can grow will keep southern Oregon thriving. Chris will continue to fight for the traditional values that we all share. She stands up for life, small business, gun rights, law enforcement, timber & agriculture, and school choice.
DON'T PORTLAND OUR OREGON
Chris pushes back against big-city policies that disproportionately give resources and influence to Portland.
BACKING LAW ENFORCEMENT
Chris supports law enforcement and will continue to fight against any efforts to weaken our police. She is grateful that our community values our police and sheriffs and does not tolerate lawlessness and rioting.
EFFECTIVE WILDFIRE MANAGEMENT
We must responsibly manage our natural resources to rebuild a robust economy and protect our working lands. Annual wildfires diminish our quality of life, and threaten one of our greatest commodities. Christine will continue to work on positive reforms for managing our forests and fighting wildfires.
ENDORSED BY
Oregon Right to Life
Oregon Gun Owners
Oregon Farm Bureau
Coalition for a Healthy Oregon
Oregon Optometric Physicians Association
Representative Duane Stark
Oregon House Republican Leader
Alek Skarlatos
WWW.CHRISTINEGOODWINFOROREGON.COM
(This information furnished by Christine Goodwin.)