Bobby Levy
Bio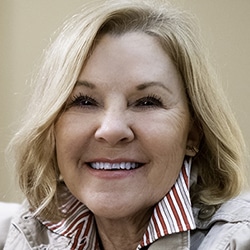 Bio
Occupation: Small Business Owner, Farmer
Occupational Background: Iowa Beef Processors, Processing Side Accounting; Blue Mountain Community College, Adjunct Business Instructor; Substitute Teacher, Umatilla County School Districts
Educational Background: Eastern Oregon University, Master's Degree in Teacher Education; Portland State University, Master's Degree in Business Administration; Portland State University, Bachelor's Degree in Business Administration
Prior Governmental Experience: ODFW Commission, Chair (2012-2013); ODFW Commission, Commissioner (2006-2014); Eastern Oregon Women's Coalition, President (2006-Present); Umatilla County Budget Committee, Member (2018-Present); Oregon State Representative (2020-Present)
Effective Leadership
Republican Bobby Levy has a history of advocating for Eastern Oregon issues. As President of Eastern Oregon Women's Coalition, she organized tours and meetings for elected officials and agencies to come to Eastern Oregon and learn first-hand about our priorities and concerns. While serving on the ODFW Commission, she was a strong voice for regional farmers and ranchers against growing wolf populations.
Conservative Values
Bobby has spent her entire life in Eastern Oregon, first in La Grande and then in Umatilla County. She is a life-long Republican who believes in pro-life and pro-family values. She is a tireless advocate and defender of the Second Amendment.
Ready to Work for You
As a business owner and farmer, Bobby knows what it means to meet a payroll, eliminate waste, and manage a balanced budget. Her experience and strong working relationships with area legislators will allow her to hit the ground running on day one.
Endorsements
Oregon Right to Life PAC
Congressman Cliff Bentz
Senator Bill Hansell
Mark Simmons, Former Speaker of the Oregon House of Representatives
Umatilla County Commissioner Dan Dorran
Umatilla County Commissioner George Murdock
Umatilla County Commissioner John Shafer
Union County Commissioner Paul Anderes
Union County Commissioner Matt Scarfo
Wallowa County Commissioner Todd Nash
Wallowa County Commissioner Susan Roberts
Wallowa County Commissioner John Hillock
Mayor of Pendleton John Turner
Elect Bobby Levy for State Representative
www.BobbyLevyForOregon.com
(This information furnished by Friends of Bobby Levy.)