Betsy Johnson
Bio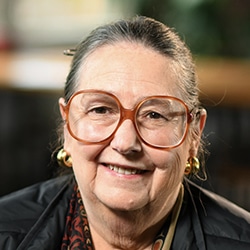 Bio
Betsy Johnson is running for Governor as an independent leader unaffiliated with any party and loyal only to the people of Oregon.
She believes only Oregonians – not the broken political parties – can rescue our state from the failures of Kate Brown, Ted Wheeler and Tina Kotek. As Governor, Betsy will force to the two parties to work together to find common-sense solutions to the problems facing everyday Oregonians. Without a partisan primary election, Betsy will be placed on the November ballot by the power of 25,000 signatures from Oregon voters collected from June 1 to August 15.
While Betsy has given up her party label, her bedrock values have not changed. For the past twenty years, she has been an independent-mind pro-jobs, pro-choice Democrat proudly serving the people and communities of Northwest Oregon in the Oregon legislature. Betsy is known as a fierce advocate for her constituents, enjoys a mastery of the state budget and has a well-earned reputation as a plain-spoken moderate willing to buck her party to find bipartisan solutions. Some of her proudest accomplishments include the creation of an education and job skills training center in Columbia County, protecting the Metolius River Basin in Central Oregon from development and supporting the Bybee Lakes Hope Center in Portland that is helping people successfully transition from homelessness to housing and independent living.
Before stepping down to run for Governor, Betsy served in the Oregon House and Senate. In her 2018 re-election, Betsy not only earned Democratic Party nomination, but the Republican and Independent Party nominations through write-in votes.
In addition to public service, Betsy is a licensed commercial pilot of both airplanes and helicopters. In 1978, she founded her own aviation business — Transwestern Helicopters. It was flying helicopters – especially over Mount St. Helens before and after the 1980 eruption – that honed Betsy's ability to focus when the going gets tough. Betsy's business experience in aviation led to her being selected as the Manager of the Aeronautics Division of the Oregon State Department of Transportation, a position she held from 1993 until 1998. In 1999, as Director of Legislative Affairs for the Oregon Pilots Association, she helped pass legislation creating the Oregon Department of Aviation.
Public service runs deep in Betsy's family. Her father Sam served in the Oregon House in the 1960's and 70's and her mother Becky served on the State Board of Higher Education and many other community organizations. In addition to serving in the legislature, Betsy has served on the boards of numerous local, regional, and national organizations, including the Oregon Health Sciences University Foundation, Doernbecher Children's Hospital, Oregon Public Broadcasting Foundation, and the High Desert Museum in Bend. She is currently on the Board of Visitors of Northwestern School of Law and serves as President of the Samuel S. Johnson Foundation, named for her late father.
Born in Bend and raised in Redmond, Betsy graduated from Oregon Episcopal School in 1969 and earned her undergraduate degree in History from Carleton College and a law degree attending night classes at Northwestern School of Law, Lewis & Clark College. Betsy and her husband John Helm have been married 35 years and have worked side by side in both business and public service. They live in Scappoose.