Ben Bowman
Bio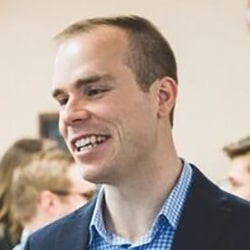 Bio
Occupation: Education Policy Analyst, Oregon Department of Education
Occupational Background: Legislative Specialist; Chief of Staff, Oregon Legislature; Youth Leadership Development
Educational Background: MA, Stanford University; BA, University of Oregon
Prior Governmental Experience: Tigard-Tualatin School Board Chair; Precinct Committee Person; Legislative Staff
"Ben is a committed leader with a hopeful vision for Oregon's future. No one will work harder to deliver results for all Oregonians."
– Governor Barbara Roberts
Lower the Cost of Living: I support reducing the cost of healthcare and prescription drugs, expanding affordable childcare options, and creating more living-wage jobs to promote economic mobility.
Build a World-Class Public Education System: We can lift academic achievement by investing in preschool for all, reading programs, and CTE. We must support educators and lower the cost of higher education.
Invest in Affordable Housing and Address Homelessness: We must build more housing, make purchasing easier for first-time home buyers, and expand access to mental health and addiction services.
Protect Oregon's Environment: I love this state and believe deeply in protecting the natural beauty that makes it special. We must combat and build resilience to wildfires, droughts, and the consequences of climate change.
"Ben is exactly what Oregon needs right now — a bright, visionary public servant committed to solving our most complex problems in a way that builds community."
– Governor John Kitzhaber
"I can't think of anyone better to represent our community than Ben."
– Tigard Mayor Jason Snider
Endorsements
Oregon AFL-CIO
Oregon Education Association
Planned Parenthood PAC of Oregon
Oregon League of Conservation Voters
Tigard-Tualatin Education Association
American Federation of Teachers – Oregon
Pro-Choice Oregon
Basic Rights Oregon Equality PAC
UFCW 555
SEIU Oregon
Oregon School Employees Association
U.S. Senator Jeff Merkley
Governor Barbara Roberts
Governor John Kitzhaber
Attorney General Ellen Rosenblum
Labor Commissioner Val Hoyle
Rep. Dacia Grayber
Sen. Akasha Lawrence Spence
Former Rep. Margaret Doherty
Tigard Mayor Jason Snider
Beaverton Mayor Lacey Beaty
Tigard Council President Heidi Lueb
TTSD Vice Chair Marvin Lynn
(This information furnished by Friends of Ben Bowman.)