Anna M Scharf
Bio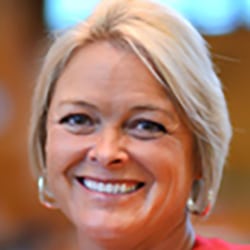 Bio
Occupation: Farmer / Farm Office Manager, State Representative
Occupational Background: Legislative Policy Analyst, Supply Chain Manager, Strategic Sourcing Manager
Educational Background: MBA in international business management, University of Phoenix; Bachelor's in Political Science, SOU
Prior Governmental Experience: Perrydale School Board, Perrydale School Board Budget Committee, Polk County Fair Board, Precinct Committee Person
"This session I chief sponsored legislation to protect your medical privacy, protect your second amendment rights and remove prescription drugs from the Corporate Activity Tax requirement that is closing our local pharmacies.
"I fought against legislation that funded special interest groups rather than supporting all Oregonians. I stood up against allowing state agencies more power and less oversight. I advocated for our law enforcement and first responders to have the tools they need to do their jobs and the resources the need to recruit and retain highly qualified people.
"Fighting for your individual rights, the rights of small business, parent choices in education, natural resource industries and transparency in government will remain at the forefront of my agenda."
"Anna has a proven track record of fighting for ag issues and quality education for our kids. She is the leader HD 23 needs to represent them in Salem." Former State Representative Bill Post
Anna is an experienced, conservative leader!
Vicki Breeze-Iverson, State Representative Minority Party Leader
Jessica George, State Representative
Jennifer Wheeler, Former Polk County Commissioner
Tony Meeker, Former State Representative, State Senator and State Treasurer
Anna shares our values!
Oregon Farm Bureau Federation
Oregonians for Food and Shelter
Oregon Taxpayers Association
Oregon Coalition of Police and Sheriffs
Oregon Right to Life PAC
"Serving as your State Representative has been an incredible honor. I am running to continue to serve and stand up for House District 23 in Salem. The Portland Progressives are trying to expand their unique brand of dysfunction statewide, and I will fight everyday to stand up to them and make sure your voice is heard at the Capitol."
(This information furnished by Friends of Anna Scharf.)