Andrea Valderrama
Bio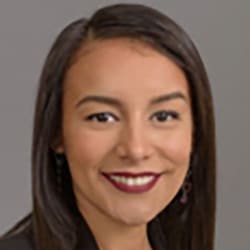 Bio
Occupation: State Representative; Strategic Initiatives Director, ACLU of Oregon
Occupational Background: Policy advising and advocacy, coalition building, grassroots community organizing in public and non profit sectors
Educational Background: Masters of Public Administration, Portland State University; Bachelor of Arts, University of Oregon
Prior Governmental Experience: David Douglas School Board, Chair
Pronouns: ella/she
As a first generation Peruvian American and daughter of immigrants, serving my community is integral to who I am. My platform is rooted in my Incan communal values. My legislative priorities are rooted in racial, economic, disability and gender justice and include:
Addressing homelessness and the housing crisis
Investing in working families and small businesses
Reducing cost of living and wage inequality
Keeping our communities safe
Supporting our teachers, students, and caregivers
Expanding affordable healthcare and building healthy communities
Developing climate resiliency
Since my appointment in 2021, I've led workgroups with community leaders to tackle housing inequities by increasing access to affordable housing and preventing displacement. This year, I introduced legislation to drive down the cost of living by providing $600 direct payments to 245,000 low wage workers that will be distributed this June. I serve as Deputy Whip in the House Democratic Caucus, Co-Vice Chair of the BIPOC Caucus, and as a member of six committees including Joint Committee on Ways and Means, House Revenue, and House Housing.
I'm proud to be endorsed by:
U.S. Senator Jeff Merkley
Senator Kayse Jama
Jessica Vega Pederson
Eddy Morales
Stephanie D. Stephens, Chair, David Douglas School Board
East County Rising
Unite Oregon Action
SEIU Oregon
Oregon State Building & Construction Trades Council
Pacific Northwest Regional Council of Carpenters
Oregon Nurses Association
Building Power for Communities of Color
APANO
Next Up Action Fund
Planned Parenthood PAC of Oregon
Pro-Choice Oregon PAC
Basic Rights Oregon Equality PAC
PCUN (Pineros y Campesinos del Noroeste)
Oregon League of Conservation Voters
Oregon & Southern Idaho District Council of Laborers (LIUNA)
Learn more!
Website: dreafororegon.com
Instagram: @dreafororegon
(This information furnished by Friends of Andrea Valderrama.)